The rooms at La Casa sul Fiume were created in a painstakingly detailed renovation of the entire country house and are warm and welcoming. Brushed oak floors, traditional furniture made by leading furniture-makers from the Bassano area, larch window fixtures with soundproofed glass and Veneto-style wooden shutters will enhance the enjoyment of your stay in this country house on the riverbank.
The rooms are named after professional figures who once existed in the Brenta Valley. Zattiere (the raftsman), Barcarolo (the boatsman), Pescatore (the fisherman), Lavandara (the laundress), Contrabbandiere (the smuggler) and Boschiere (the woodsman). Valstagna, the village that Ivan Pontarollo as well as his grandparents and great grandparents on both sides come from, just a few kilometres from La Casa sul Fiume, was the natural river port for all the wood coming downstream from the Asiago Plateau, destined for the markets of Bassano, Padua, Venice and all the main towns and cities on the Veneto plain. The Zattiere was the raftsman who transported wood to Venice on flat rafts, made out of logs lashed together. The Contrabbandiere smuggled tobacco cultivated on the terraced mountainsides during the era of the Venetian Republic and the Boschiere chopped down trees and prepared timber for transport and sale.
Services
All rooms have en-suite bathroom, hairdryer, courtesy set and double pillows. The country house has ample parking. Small pets are welcome.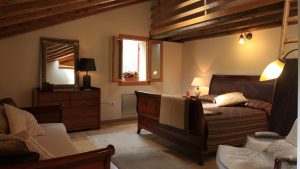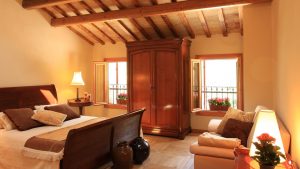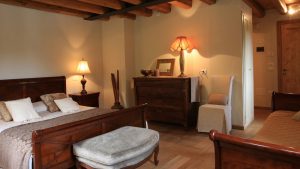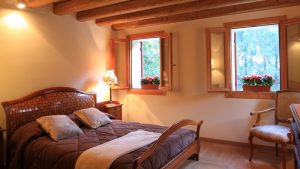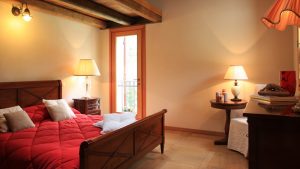 Pets friendly
Our facilities have always welcomed pets and we wish to continue to do so but, for the respect of others guests and for the common rules of hygiene, the owners must guarantee compliance with the following rules:
The presence of the pet guest must be communicated when booking the accommodation.
The cost of the pet's stay is € 15,00 for one night, € 10,00 a night if booking for two or more nights. This is to ensure a more complete cleaning and sanitation of the room, with specific detergents.
Only small and medium-sized domestic pets (max 12-13 kg) are allowed.
Pets guests must be kept on a leash in all common areas.
Customers must be adequately equipped for the well-being of their pet friend.
Any use of bed and bath linen of the pet guest (grooming) is prohibited.
It is forbidden to let the pet guest get on beds, armchairs, chairs, tables, sink etc.
The behaviour of the pet guest must be managed by the owner so as not to disturb other guests.
It is absolutely forbidden to leave the pet alone in the room.
All costs for any damage caused by the pet are fully charged to the customer.